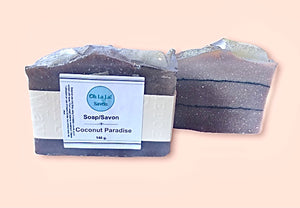 Handmade and scented with coconut milk, coconut oil, activated charcoal.
Note: This product is handcrafted in small batches and design may vary. There will be variations in product appearances and not all products will appear identical to product photos on our website. 
Benefits:
Moisturizes and nourishes the skin
Excellent, high-quality ingredients
Weight: 140g.
Ingredients: olea europea (olive) fruit oil, water/eau, cocos nuciferas (coconut) oil, prunus amygdalus (sweet almond), dulcis, cocos nucifera extract, ricinus communis seed oil, hydrogenated soybean oil, hydrogenated cottonseed oil, sodium hydroxide, sodium lactate, cellulose, glycerine, shellac, acrylates crosspolymer, aluminum, activated charcoal, cocos nucifera fruit, parfume.
Disclaimer: Our products are handmade, colour and size may vary. For external use only, Stop using if irritation occurs, avoid contact with eyes. Not intended for medical use, if you are pregnant or have a medical condition contact doctor or physician. Keep out of reach of children and animals. Do NOT eat. Careful, this product may leave shower or tub slippery. May contain nuts.